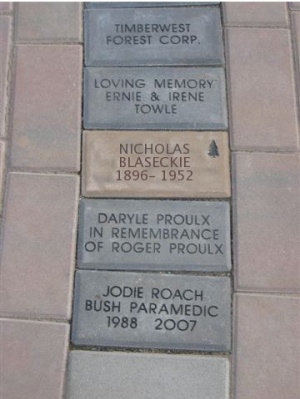 I grew up in a house that was filled with music. Despite the budget considerations of raising four children on a printer's salary, there was never a problem finding money for a piano, a saxophone, and a clarinet for us to play or for the long years of tormenting teachers with our efforts to learn how to play them.  We still don't know how they managed to do this and feed us too. Music, love and wiener soup – could these be the ingredients of the glue that held our family together?
As a present to Dad for Father's Day 2007,  my brother, sisters and I have purchased a brick in memory of  Nicholas Blaseckie at the Forest Workers Memorial Park in Cowichan Lake BC.
For information about the Memorial Park, visit the Cowichan Lake website at http://www.cowichanlake.ca/bus/forestcoop/fworkpark.html
Music in this episode was recorded live at the Greater Victoria Strings Orchestra  "Bach to the Beach" performance on June 7, 2007 at Willows Beach, Victoria BC.
An Irish Party In Third Class – Gaelic Storm
Entrance Of The Queen Of Sheba – Handel
Podcast: Play in new window | Download