When your child has Type 1 Diabetes, you become a family with diabetes.
Actually, you become part of a huge international family all dealing
with the physical and emotional roller coaster of life with a chronic
disease.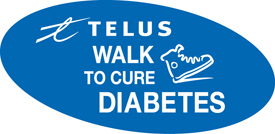 This is a YouTube presentation by the Vancouver Island JDRF
teen council who are the teenagers in the Type 1 family. They're old enough
to speak for themselves and get the word out. One of them is our
daughter and she's decided to bring her friends to babasbeach in time
for a family walk.
To donate, please click here