But Granny, you don't have glaucoma.
I remember a Mad Magazine comic about how each generation rebels by
turning into the opposite of it's parents. Hippie parents were shaking
their 'fros and rattling love beads in worry over finding a three piece
suit concealed in their son's closet.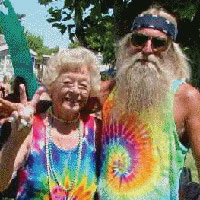 If only the truth were that simple – it's not the differences between generations that causes problems, it's that we are actually too much alike.
Thanks for visiting Baba's Beach today. If you have any comments, we'd love to hear them.
Please visit us at www.babasbeach.ca and send comments to babasbeach@gmail.com
Music from the Podsafe Music Network this week:
Podcast: Play in new window | Download