Just another Yankee with a Maple Leaf on her back-pack
While still engaged to mom, dad whisked off to the University of Washington to get a BA in theatre. Mom and dad corresponded faithfully until one day Dad mentioned working in a Sorority to supplement the GI bill paying his way. "You mean a Fraternity,
don't you" was mom's reply. Nope, dad replied, he was pretty sure it's a Sorority cause men don't look this good in satin. My parents married that fall and my sister was born in Seattle the following year.
We always assumed because she lives in Canada, pays taxes in Canada and never declared U.S. citizenship after reaching the age of 21, she was a Canadian. Until, that is, she had to apply for her passport and was told she really wasn't a Canadian…or American…or, well, anything. It took a signed declaration by my father, his birth certificate to prove his citizenship and the intervention of Rowe's Member of Parliament to finally cut the red tape for the passport to be issued.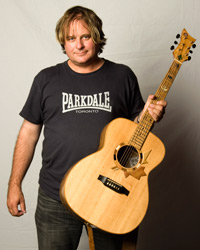 Never take life in this country for granted. It is a gift, a blessing and a jewel beyond price.
Visit Jowi Taylor and the amazing Voyageur at www.sixstringnation.com , better yet, go to your local book store and buy his book.

Thanks for visiting Baba's Beach today. If you have any comments, we'd love to hear them.
Music from the Podsafe Music Network this week:
Song of Assisi by -MARC GUNN – Celtic Songs, Sci Fi, and Cats
Maple Leaf Rag by Jeanne Backofen Craig
September Wind by Hardwire Speers
O Canada by *Danny Fong* (Some Tracks Feat. A cappella quartet, 'Mixed Nuts' or other friends and family)
Noodling by Jay Moonah (Thanks to Daniele Rossi for the recording of the 6 String Nation guitar at PAB 2009)
Podcast: Play in new window | Download